Henry McGrane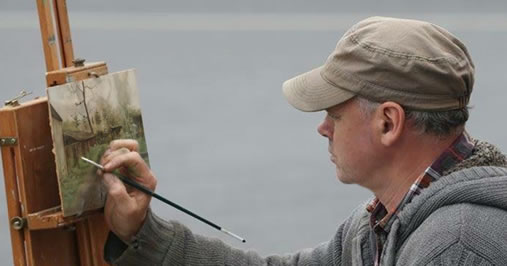 Henry McGrane (b.1969) Follow and Like on my Facebook page Henry McGrane Art
The virtuosity of Irish painter Henry McGrane is evident in several genres, including landscapes, still life, figurative genre-scenes and portraiture. But perhaps landscape painting best reflects both his love of nature and his outstanding painterly skills. The latter is exemplified by his mastery of perspective, compositional structure and daughtsmanship - each of which would require its own in-depth article to explain and illustrate. His Summer Evening in Slane is a special masterpiece. See the larger version on McGrane's website, and marvel at the way he creates a magical snapshot out of an ordinary piece of road. I got so absorbed in it, that my Internet connection expired. In my opinion, this is what real art is all about: creating beauty from the world around us. It's also what makes McGrane one of the best Irish artists. (For other modern painters based in Ireland, see: Contemporary Irish Artists).
Review written by Neil Collins (Editor) www.visual-arts-cork.com
Born in 1969, Henry started his successful career, having studied art in Dun Laoghaire College of Art and Design. He started working with O'Sullivan Bluth Animation in Dublin. He went to Phoenix, Arizona in 1995, where he worked for 20th Century Fox Studios. He furthered his career whilst in Arizona by studying oil painting under the tuition of renowned artist Joshua Fallik. This then inspired him to study portraiture under the famous American painter Diane Leonard.
Having gained experience in most aspects of painting, Henry left the United States in 2000 and went to Norway for one year. Having gained extensive knowledge on the international scene, he returned to Ireland where he started to paint earnest. He currently spends much of his time in Andalucia, Spain.
Henry has gradually made a name for himself in art circles in Ireland, United Kingdom and United States, where his paintings are much sought after.